The fascination started in high school – on a browse for "surreal desktop wallpapers". One day, I stumbled upon a decent jpg, and then before I knew it, I began collecting and saving Absolut ads on my computer.
So, here  begins an: (kudos if you can read the fine print [no pun intended]) 
Over the years, I've been trying to figure out why I've loved them so much- whether they were genuinely generated by Absolut or by other artists putting their own spin on the ads.
I think it stems from the belief that I'm as adept as a 2-month old baby when it comes to drawing. In kindergarten, my arts and crafts teacher told me she was disappointed with my lack of skill during an origami session, since I'd ask her for help every class. Therefore, since I was "bad" at art, I hated it as a kid and dismissed it as boring. It wasn't until I took an art history class (why? I still don't know to this day..probably because I was suffering from extreme senioritis)  that I began reconsidering. It's why I admire copywriters and graphic designers who are good at their craft: it's a combination of both intuition and craft one needs to execute and perfect.
One thing remains, however: when the brand name comes up, my mind automatically gears to the ads. It's like the ads  have transcended the logo- by becoming the logo itself.
These are the ones I keep coming back to: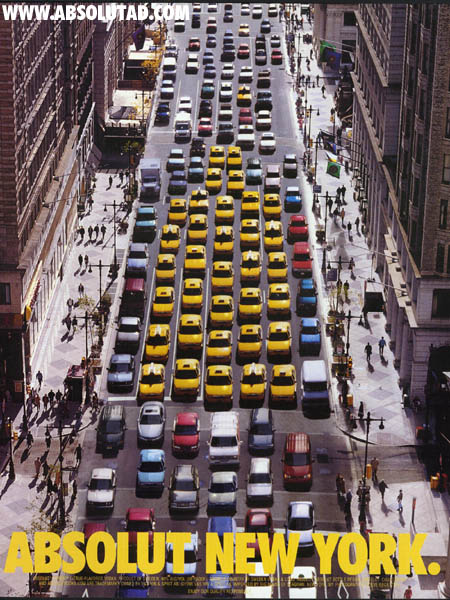 Nevertheless, I think Absolut's one of the few consistently impressionable brands out there, next to Coke's "Happiness",  that have established themselves via print (nowadays, it's mostly commercials you remember products for).  It's probably interesting to note this phenomenon only in the food/drink industry, unlike the fashion world (where print still reigns) or maybe tech like Apple.
Maybe it's also because the ads that suck me in tend to envision an alternate reality or parallel universe. Like these:
Call it idealistic. The first one is a little radical; the second, slightly achievable ("Iron Man" much?). But with science picking up the pace  and filling in empty pages these days, who or what's to say that nothing is impossible?
So there you have it: a verbal proof of the absolute value equation for creative ad thinking. No matter how "real" or "complex" the number is, the destination will be far from zero. Its value is always positive- and Absolut[ely] Brilliant.